The amount of money raised from external funding sources in 2019 for the scientific activity carried out at Campus Gandia of the Universitat Politècnica de València continued with the up-tick initiated in 2016.
In 2019, the funding raised for scientific research amounted to 4,855,000 euros, according to the data published in the annual report on the results of the R&D&I activities at the Campus.
40% of the funding corresponds to signed contracts and agreements, while 60% comes from competitive grants, this percentage accounting for a total of 1,959,000 euros, which more than doubles the amount raised in 2018 (842,000 euros).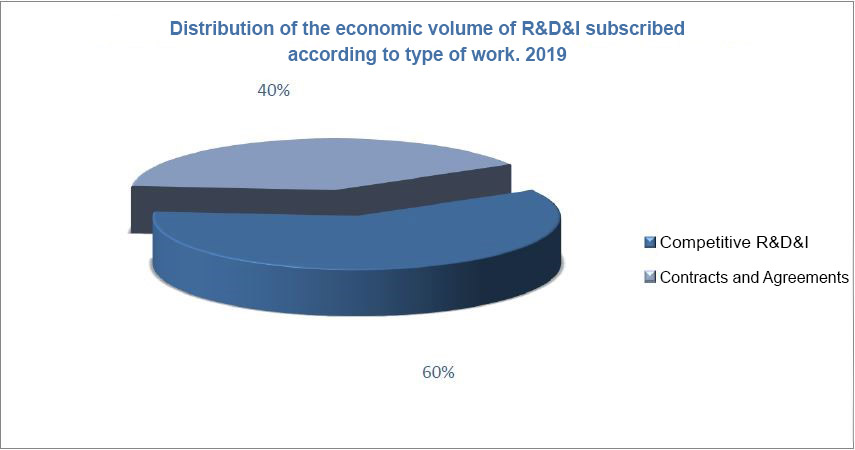 With respect to the competitive R&D&I activity, half of the financial volume comes from the Central Administration, which makes up 51% of the total funding and represents a considerable increase as compared to the figures from 2017 and 2018.
As for the R&D contracts and grant agreements signed in 2019, they have mostly involved businesses, followed by contracts/agreements with the administration and with other entities (universities, research centers, business associations and institutes). Thus, the financial volume of contracts and agreements with businesses (78%) has risen significantly with respect to the figures obtained in the last three years.
With respect to the spatial distribution of the actions contracted , 58% came from businesses in the Valencian Community and 37% from the rest of Spain, which indicates the tremendous impact that the research from the Campus on its immediate socio-economic environment. In turn, 5% of the actions originate from international (non-European) businesses.
In the analysis of the geographical origin of the funds, there is also a large increase in the financial volume of R&D contracts and agreements signed with international (non-European) entities, increasing from the sum of 5,000 euros in 2018 to 851,000 euros in 2019, representing 56% of the total volume.
COMMITMENT TO RESEARCH
The ability to obtain funding, a clear sign of the trust placed in the university by businesses and institutions, demonstrates the high quality of the research activity carried out on campus, which maintains its firm commitment to the generation and transfer of knowledge for scientific and technological progress, with the aim of making significant contributions to society.
RESEARCH INSTITUTE FOR INTEGRATED COASTAL ZONE MANAGEMEN
After barely 10 years in existence, the Research Institute for Integrated Coastal Zone Management (100% Campus Gandia institute) has managed to establish itself in the top 25 research structures of the 85 present at the UPV.
It is composed of 65 people, of which 49 are PhDs. The research personal has a total of 57 six-year tenures of research under their belt, an indicator that validates the recognition of its high level of scientific output.
In addition, the mixed unit formed by the UPV and the Spanish Institute of Oceanography – Technology Unit for Marine Studies (UTEM, for its Spanish initials), based on the Campus (port of Gandia sheds), is conducting major scientific projects.
The full reports can be viewed in Spanish in the following links:
Campus Gandia Bibliometric Analysis
---
R&D&I Management and Promotion Officer at Campus Gandia