Jaime Lloret and Sandra Sendra from Campus Gandia stand out as two of the top researchers in Spain, according to the ranking issued by the Group for the Dissemination of the h-Index (DIH).
This classification evaluates the professional quality of scientists based on the set of the their most cited papers and the number of citations that they have received in other publications. Furthermore, the ranking, based on the ISI Web of Knowledge database on scientific publications, establishes a specific classification for each of the disciplines in the seven different fields of knowledge: Biology, Health Sciences, Earth Science, Physics, Mathematics, Chemistry and Technology, Engineering and Applied Science. The current database contains information on 3,965 researchers working in Spain, 2,403 of which appear in the classifications of 178 fields of research.
In the latest update in January 2021, Jaime Lloret obtained an h-index of 36, placing first in the field of Telecommunications for the fifth year in a row, while simultaneously placing high in Engineering, Electricity and Electronics. "Coming in that position is a great acknowledgment of your work and dedication, as well as another example of the good work we do," said Lloret. As for Sandra Sendra, she obtained an h-index of 17, also in Telecommunications, coming in fourth in the chart.
For Sendra, "this classification means that the years of sacrifices and personal, professional and family efforts begin to bear fruit and are beginning to be valued and, furthermore, that our research is very useful and, above all, that people like it."
AT THE HEAD OF TELECOMMUNICATIONS
Jaime Lloret has directed the Research Institute for Integrated Coastal Zone Management (IGIC) since January 2017. He has a degree in Physics, specializing in Electricity, Electronics and Computer Science; Electronic Engineer and PhD in Telecommunications. P2P networks, wireless sensor networks, network protocols and algorithms are some of the subjects of his research. "I started my research at Campus Gandia and I consider it to be an ideal place for creating multidisciplinary teams that allow for great scientific advances to be made. Thanks to the synergies that are produced, as well as the excellent preparation of the students in the different degrees taught there, an excellent work environment is brought about to create leading research groups in really groundbreaking areas. Proof of this are the scientific projects that we have been leading, as well as the two European projects we are currently working on, one of them as coordinators," Lloret declared.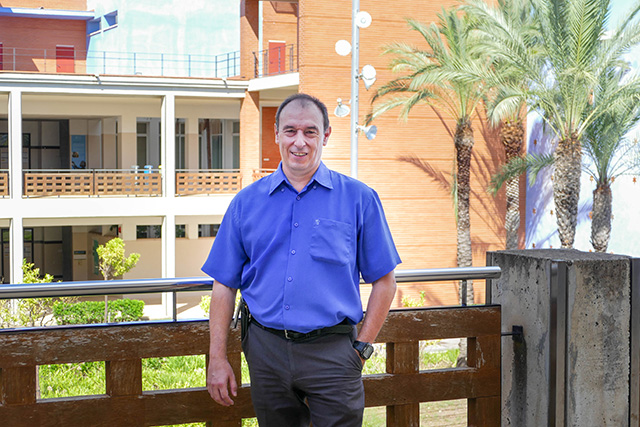 As for Sandra Sendra, she teaches various subjects on Campus and conducts research in the field of sensor design and deployment of sensor networks, communication protocols and algorithms for the development of solutions for the Internet of Things (IoT), environmental monitoring or E-Health settings, among others. She is a Technical Engineer in Telecommunications, specializing in Electronic Systems, with a Bachelor's Degree in Telecommunications, Sound and Image Systems and a PhD from the UPV in Electronic Engineering. "Campus Gandia has a special charm. The proximity to both the sea and the mountains makes it ideal to carry out almost any research. There is a very familiar and welcoming atmosphere that made it my first choice for my undergraduate degree, and it is currently the best place for me to work and for my research."

MULTIDISCIPLINARY INSTITUTE
The IGIC Research Institute was created in July 2007 with the aim of gathering and strengthening research capacities at Campus Gandia. Currently, it includes eleven research groups working in eleven multidisciplinary lines of research focusing on fields of Ecology, Coastal Oceanography, Analytical Chemistry, Mathematical and Statistical Applications, Underwater Acoustics, Acoustics Applied to the Detection of Astroparticles, Waves in Complex Media, Sensors and Magnetism, Communications and Networks, Socioeconomics and Tourism Management.
---
Source: Laida Frasquet
Office of Communication at Campus Gandia